Alyce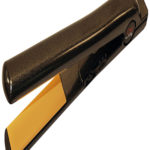 Episode 105: How to flat Iron or straightener all hair types
By Rico
Hello everybody! I know that trying to achieve that salon blowout or flat iron is enough to grab the whole bottle of Stella Rosa and find your best hat and say screw it! But I will walk you through how to achieve that smooth and silky flat iron with out frying your hair follicle and looking like an 80's music video vixen.
1. Please understand that you cannot achieve a silky look with dirty hair. Please take the time to clean your hair and deep condition your hair to give a healthy layer of protectant to protect the hair cuticle. I would suggest Joico Smooth Cure or whatever sulfate free shampoo conditioner you prefer.
2. Proceed to blowing out your wet hair in sections to achieve a smooth surface to begin the flat iron process.
3. Now grab a serum or a protectant this creates a layer on the hair to assist in straightening it and creating a thermal bond that can keep lock in the heat from the flat iron in place to have a smooth finish.
4. Now just because your flat iron or hair straighter can get to and achieve a heat of 450 degrees does not mean that a daily usage of this high heat won't damage the hair follicles. It can dry out the inside of the hair, which will start to be come unruly and dry to the touch. So thin or fine hair should be set to 150 – 200 degrees wavy or thicker hair should be around 200 – 300 degrees thick and coarse hair should be around 300-400 for an initial flat iron. For touch ups start off with 150 to 200 depending on your level of straightening and thickness.
5. Now a small flat iron 1' to 2' inches will allow you more styling and straightening control. So take small sections of hair and start at the scalp and slowly pass downward to the ends of the hair.
6. Now keep your hair in four sections starting in the back.
7. Do not spray or rub any oil product in hair before using the flat iron. The oils weigh down the hair and make it stringy instead of bouncy and vibrant.
8. Separate the sections no wider then the width of your flat iron. You do not want to have too much hair then you are not allowing the heat to properly straighten each strand.
9. Slowly make your way around your hair and began to flatten into your desired style.
10. To complete the style you can take a dime size amount of serum or spray a holding spray to control your style.
Now that it is all over looking at that hair shiny and bouncy makes it all worth it. Hey I say it's 5 p.m. somewhere open that bottle and have a go.
Rico