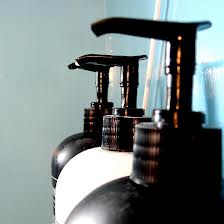 Episode 102: How to choose a Ph level shampoo?
By Rico
Let's attack the number one subject how do you pick the right Ph level shampoo for your hair or hair extensions? Understanding what kind of hair you have? Most Asian, Indian, and Peruvian hair types are naturally straight or slightly wavy hair types. Those hair types do not require to many hair products to maintain their natural luster and shine. In a nutshell what your natural hair may need is something totally different from what your hair extensions or wigs require to maintain shine and luster.
The acronym PH stands for potential hydrogen. The PH level is a reference to how many hydrogen ions are present in a substance. The PH level is used to indicate how much alkaline is in a substance or how acidic the substance is. Varying pH levels in shampoos have different effects on diffeerent hair types.
Most Asian, Indian, and Peruvian hair responds better to a low PH level shampoo. A good Ph level in a shampoo level is measured at a level 7 or below. Is the counter effect to prevent dull, dry brittle lifeless hair. It also preserves color treatments without stripping the shine off of the hair and helps them last a lot longer. Acidic shampoos also help add additional shine and maintain moisture without overly coating the hair and making it appear dull.
Top 5 picks
AG Hair Cosmetics Moisture & Shine Fast Food (sulfate-free) Ph 5
Joico Body Luxe Thickening PH 4.5
Kenra Clarifying Shampoo PH 4.5
Davines Well Being De Stress Muesli & Yogurt Shampoo PH 5.5
Joico K-Pak Reconstructor PH 4.5
List of shampoos with low PH levels
Joico K-Pak Reconstructor pH 4.5-5.5
Tresemme Antibreakage = 5.40
White Rain Extra Body = 5.35
Aubrey Organics Honey Suckle Rose Conditioner = 5
Tresemme Naturals Moisturizing Conditioner = 5
Luster's S-Curl Activator and Moisturizer = 5.5
Suave Humectant Conditioner = 4.5
ORS replenishing 5
Yes to Cucumbers Color care leave-in 5
Yes to Carrots pampering hair mud 5
Kiss My Face Whenever Shampoo: btwn 4.0 and 5.0
Aubrey Organics White Camellia Conditioner: btwn 4.0 & 5.0
Aubrey Organics Honey suckle Rose Conditioner: btwn 5.0 & 6.0
Oyin handmade Honey Hemp Conditioner: btwn 4.0 and 5.0
Jessicurl Too Shea Extra Moisturizing Conditioner: btwn 4.0 and 5.0
Jessicurl Aloeba Daily Conditioner: btwn 4.0 and 5.0
Curls Curly Q's Coconut Dream Moisturizing Conditioner: 5.0
Millscreek Botanicals Biotin Cond.: btwn 5.0 & 6.0
Aphogee Keratin 2 Min Reconstructor: btwn 5.0 & 6.0
Taliah Waajid Protective Mist Bodifier 4.5
Giovanni Smooth as Silk Shampoo is 6
Giovanni Deep Moisturizer Conditioner is 5.5
Ion Clarifying Shampoo 5.5
Avalon Organics Moisturizing Shampoo 5
Kenra Moisturizing Conditioner 4.5 or 5