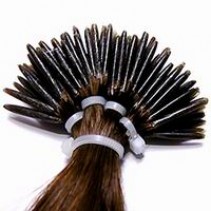 Episode 123 : How to install an I-Tip hair extension?
By Trish
Hello, today I will be walking you through how to install an I-Tip hair extension using the micro bead technique. The mirco bead or silicone ring (also is called micro locs, linkies, or beads, tubes or cylinders, mirco ring) is not as hard on the hair as glue. Glue adhesives can tend to pull hair when handling on a day-to-day basis.
Now an I-Tip hair extension looks similar to a shoelace tip. The I-Tip hair extension is a pre dipped into glue adhesive just like all other glue tipped hair. The micro ring method allows for a more natural looking hair extension look. The I-Tip hair extension along the mirco ring will last for couple of months (3-5 months depending on hair growth and handling), but know that the rings should be checked every 90 days to readjust based on individual growth and to be tighten.

Things you will need
1. Pliers
2. Threading hook or loop
3. Mirco beads or Silicone rings (the amount depends on how many rows you are installing)
4. I-Tip hair extension 2 to 8 oz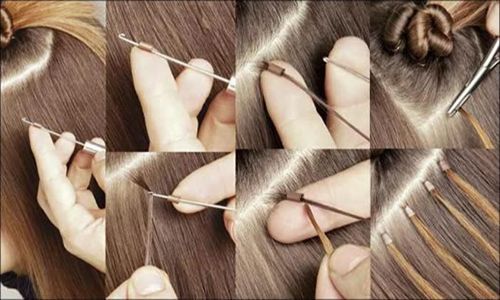 Steps to installing the I-Tip using the Micro Ring system


1. Please part hair into sections. Targeting a section towards the middle allowing your own hair to blend in when finished. Section several rows on the back of your head and the sides of head.
2. Insert the micro ring onto the threading hook or loop.
3. Take a couple strands of your own hair and thread the micro ring onto your own hair strand. Do this by inserting your own hair into the threading hook or loop. Then slide the micro ring onto your own hair.
4. Take the I-Tip hair extension, and insert the I-Tip bond tip into the ring from the bottom.
5. Please clamp the ring shut by using the pliers.
6. Repeat steps until you have reached the desired fullness.
The I-Tip extensions will last for a couple of months. Please take this into consideration to how fast your hair will grow. This will let you know when to retighten the rings or remove rings.
How To Remove Micro Bead Hair Extensions:
Take the pliers and apply pressure to the micro ring by lightly squeezing it in the opposite direction to open it. Slowly slide the I-Tip or hair extensions out.
*Please consult a licensed cosmologist or hair extension specialist to ensure a proper and secure installation.