Rico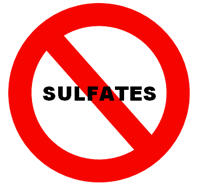 Episode 103: What is sulfate-free shampoo?
By Rico
What is sulfate-free?
Sulfate free shampoos have no bubbles when it lathers. Verses your regular shampoo, which have a chemical agent, referred to as Sodium Laureth Sulfate and Sodium Lauryl Sulfate. These are commonly found in hand soaps and laundry detergent. Please be aware of the list of ingredients on the label. If these two ingredients are in the top five listed means that a majority of your shampoo has this agent in it. The common misconception is that when washing your hair the sudsy white bubbles produce nice clean hair this is wrong. These bubbles break down the moisture that is locked into the hair follicles. This also can start to damage the hairs follicles, which will slow the hairs growth cycle.
The more you use the sulfate free shampoos your hair will start to have a natural shine to it and feel more soft and manageable. There are more benefits to using sulfate free products, such as in alot of make up you wear contains some sort of sulfate that can lead to irritation and breakouts. I strongly suggest trying a sulfate free shampoo for a month to give your hair a chance to fully react to the change. And then make a serious decision if a sudsy lather is worth the prolonged damage to your skin, body and hair.