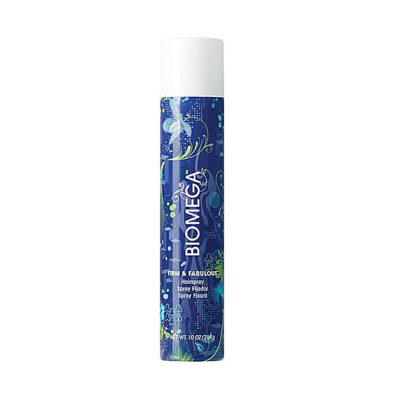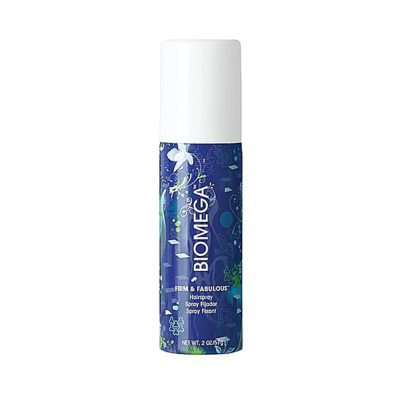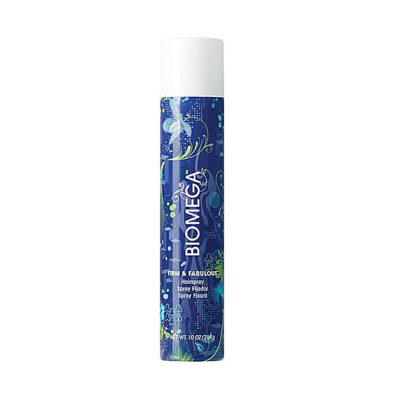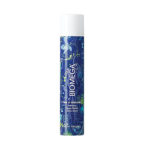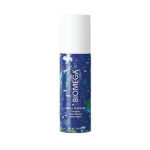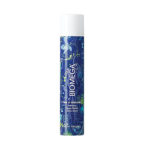 Biomega Firm & Fabulous Hairspray By Aquage
Keeps style in place yet combs out easily without residue
 Builds body and gives hair amazing shine and brilliance
 Provides humidity resistance
 UV protectants help keep color vibrant
 Meets CARB air quality standards
$6.99 – $23.45
Description
Additional information
Reviews (0)
Ingredients
How To Use
Description
Biomega Firm & Fabulous Hairspray ensure that styles stay fabulous with firm, pliable hold.  This innovative conditioning hairspray has a layerable, extra-fine mist that builds body and amplifies hold. Omega-rich nutrients leave hair brushable, ultra-shiny and frizz-free so styles comb out easily without leaving any residue. Excellent for refreshing style throughout the day and reshaping voluminous looks. UV protectants help keep color vibrant.
Additional information
| | |
| --- | --- |
| Weight | N/A |
| Dimensions | N/A |
| Sizes | |
---
Only logged in customers who have purchased this product may leave a review.
- Keeps style in place yet combs out easily without residue
- Builds body and gives hair amazing shine and brilliance
- Provides humidity resistance
- UV protectants help keep color vibrant
- Meets CARB air quality standards
Ingredients
Biomega's precious natural oils and plant extracts were selected for their highly active levels of Omega Essential Fatty Acids (EFA), nature's most powerful moisturizer. EFA's replicated the benefits of hair's missing natural oils and the elements of healthy, vibrant hair. The list of oils and plant extracts include:
Coconut Oil
- Absorbs quickly into hair fibers to deliver mega hydration and a soft smooth shine
- Activates into a protective thermal shield when heat styling tools are used delivering instant repair of surface damage
Mango Seed Butter
- Excellent sources of omega-3 and omega-6
- Improves hair elasticity and softens cuticle for dramatically smoother, silkier hair
Macadamia Nut Oil
- Source of Omega EFAs plus beneficial nutrients and vitamins
- Helps rebuild and seal the cuticle for maximum light reflection
Tiare Flower Extract
- Blended with Coconut Oil to produce ultra-light Monoi Oil, used for centuries to add brilliance to hair
- Anti-inflammatory smoothes over-stressed cuticle layer to restore healthy luster
Noni Seed Oil
- Major source of humectant-rich Omega 6 EFA
- Restores emollience and relieves intense dryness
Hibiscus Extract
- Rehydrates keratin fibers and helps regenerate hair structure
- Forms a barrier against moisture loss
Tahitian Palm Kernel Oil
- Highly refined, low molecular weight source of Omega EFAs
- Closely mimics hair's natural oils
- Penetrates deeply to strengthen hair's cortex
Polynesian Orchid Extract
- Anti-free radical agent restores elasticity to reduce breakage
Plankton Algae Extract
- Optimum blend of Omega 3, 6 and 9 to nourish the scalp and strengthen the hair shaft
- Harvested from fresh water algae
Spirulina
- An optimum blend of omega 3, 6 and 9 to nourish and improve hair's condition by building increased health from within, displayed as stronger, flexible and shiny hair
- A rare source of the essential fatty acid GLA (Gamma Linolenic Acid)
Avoto Seed Oil
- The most effective natural sunscreen of all plant oils
- Shields against UVA/UVB rays to extend color retention
- High Lecithin content increases substantively, won't rinse out
Plant-derived Antioxidants
- Protects against environment and styling damage
- Smoothes the cuticle to help seal in color
Spray from 10-12 inches away in short, even bursts. The further away from the head the product is applied, the drier the spray
- Firm & Fabulous can be used for long-lasting hold, shine and control or for creating volume and lift
- Apply Firm & Fabulous in layers if building or creating style
- Use short burst of spray over entire head to lock in finished styles